Ovidius B1 headphone Amp Review
Author:Andy.EF
DAC Chip: Undisclosed AKM (Custom Quad Channels, IAA)
PCM 24bit - 192khz, SNR: -108dB, Power: Adaptive up to 600Ω, 2.5mm DATA to USB Type-C Male, 3.5mm SE (Microphone: No), Aluminum Chassis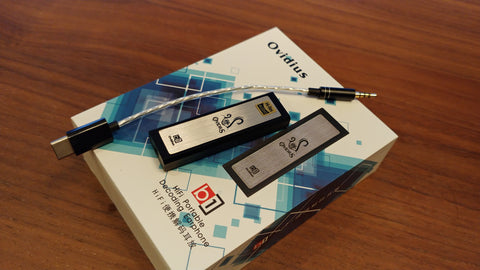 Strengths:
Ethereal neutral and natural airy smooth timbre, uncolored tonality
Realistic dynamics with well controlled vibrancy
Reference grade coherence with pristine clarity all over, super transparent
Intimate Mids with rich textures and definition, vivid Male/Female vocals
Silky smooth Treble with matured finesse, depth, extension, and textures
Richly textured Mid-Bass with commanding vibe and smooth decay
Deep, richly textured Sub-Bass with realistic decay
Excellent details retrieval, Macro and Micro. Realistically nuanced
Lifelike guitar, piano, cello, and bass guitar tones, vivid yet smooth
Sweet sounding percussions (chimes, bells) and realistic drums and taps
Massive soundstage with great depth and spacing.
Reference grade imaging, razor sharp precision with spacious spatial staging
Reference grade speed and transients handling, no chance for congestion
Completely black background, zero floor noises
Zero signs of coarseness or grainy edges, at any frequency
Great sibilance resistance
Immensely powerful SE output with commanding drive
Absolutely gorgeous sounding paired with DT990 250 Ohm, Monolith M565c (volume at 65/100), Etymotic ER4SR and Shure KSE1500 (as a lineout)

Weaknesses:
Sub-Bass seismic impact could be a little bit stronger
To some, the smooth dynamics could be regarded as a bit laid-back, lacking aggression.
Being super transparent it exposes bad recording artifacts audibly.
No hardware volume adjuster
Proprietary 2.5mm to USB-C cable (DON'T lose it!)
Available only in 3.5mm Single Ended Audio Out

VERDICT:
Ovidius B1. Realistic, that's how I would describe this mysterious DAC/Amp. The overall sound reproduction meticulously focused on presenting transparent and natural sound. It is highly organic as it is competently technical. This B1 will reveal the nature of the recordings, any imperfections will be audibly heard. There's no hint of attempts to overdo anything. This thing is totally uncolored. The smoothness level is just about right, the highs extended naturally, the lows oozes matured finesse, Mids naturally vivid – but it doesn't feel out of place. What surprise me the most is how spacious and airy the sound is, the soundstage is wide as it is with proper depth – definitely among the best.
The greatest appeal for this Ovidius B1, is for those seeking perfectly balanced source – totally neutral and uncolored. In my book that's a massive plus and I personally loved it. AND because it sounded so great with Extreme Metal, this B1 is definitely one of my personal favourites now.
PS: Would have received 100/100 score from me however I must factor in the cons as noted in Weaknesses – well nothing is perfect.

OVERALL RATING: 98/100
Recommended Pairing: Best synergy with technically competent IEMs and Headphones.
Relative articles